Elementary Education Transfer Major
Gain the knowledge, skills, and experiences needed to begin a career as a highly effective elementary teacher. You'll graduate with a practical understanding of child development and teacher education.
Earn your Associate in Arts (AA) degree in Elementary Education before transferring to a regent university (Iowa State University, University of Iowa, or University of Northern Iowa) to complete your bachelor's degree and state-approved teacher preparation program. Completion of an AA degree at Iowa Lakes will satisfy the required general education prerequisites at the regent of your choosing. Gain knowledge in introductory elementary education courses such as Educational Psychology, Technology in the Classroom, and Children's Literature.
By earning this degree, you'll have met the general course requirements for a specific major of a four-year institution and a transfer major recorded on your transcripts from Iowa Lakes. Requirements may vary among institutions so students should work with an advisor to become familiar with specific requirements of the institution which they plan to transfer.
To earn a Transfer Major Degree, a student must complete all required coursework of that specific major and maintain a 2.0 GPA or higher.
Students who plan to complete their general AA or AS and have a TRANSFER OPTION should contact the college or university to which they plan to transfer to assure that that core courses they take will transfer into their planned major.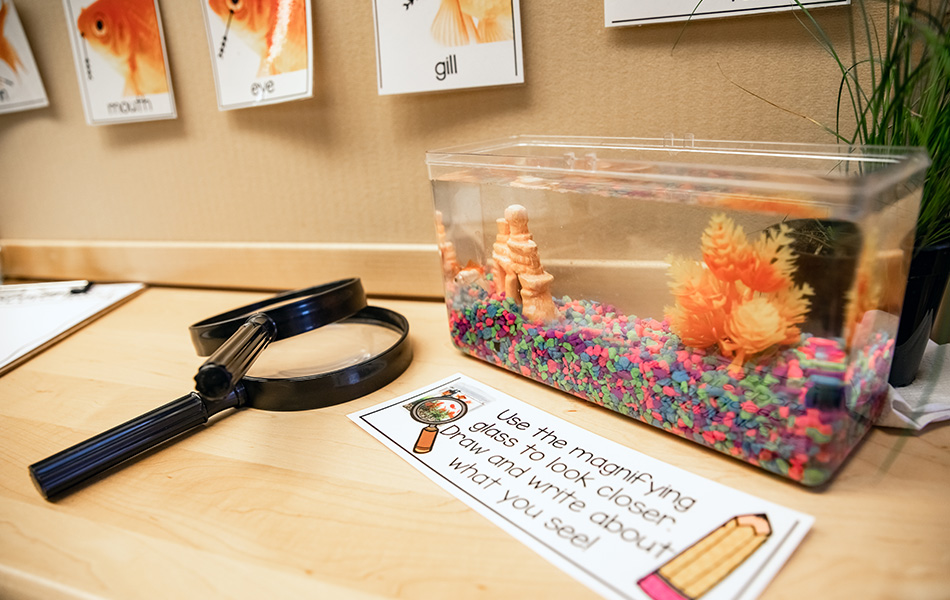 EDU 210 – Foundations of Education
Credits:
3
An introduction to professional education providing a historical and philosophical background from which the student can exam­ine his or her commitment to education. Challenges and issues in education today will be discussed in the context of school or­ganization, funding, curriculum, professionalism, legal issues and effective teacher characteristics.
EDU 213 – Introduction to Education
Credits:
3
This course presents an overview of the field of education, including foundations of American education, effective teacher characteristics, student engagement, philosophies of education and curriculum development. Current challenges and issues in regards to education will be discussed and analyzed on topics such as school funding, professionalism, ethical and legal issues, student diversity and classroom management. Students will complete a 40-hour practicum at the elementary, middle or high school level in which an emphasis is placed on educational theory, creating document for a teaching portfolio documenting the students understanding of the Iowa Teaching Standards. This course is recommended for students who plan to major in education.
Credits:
3
Emphasis on expository and argumentative writings including a review of usage and mechanics.
Prerequisites: Satisfactory score on the ACT, Accuplacer, ASSET,COMPASS as determined by Iowa Lakes policy
HIS 151 – U.S. History to 1877†
Credits:
3
Study of national foundations, colonial background, revolution, confederation and institutions; nationalism and expansion. The growth of democracy and war plus reconstruction are analyzed.
MAT 117 – Math for Elementary Teachers
Credits:
3
Basic mathematical content pertinent to elementary teaching.Topics include problem solving, set theory, number systems and bases, number theory, informal geometry, measurement and elementary probability, and statistics. Does not count toward the mathematics requirement for the AA or A.S. degree.
SDV 103 – Successful Learning
Credits:
1
Students master the academic and personal skills needed to suc­ceed in higher education and in life. Content will cover academic, communication and life management skills. Goal setting, time management, note taking, test taking and how to be a lifelong learner will also be covered.
EDU 235 – Children's Literature
Credits:
3
Teaches the criteria for choosing the best children's literature and applies that criteria to evaluating materials to be used in the classroom.
Credits:
3
Continuation of ENG 105 with emphasis on research and docu­mentation as well as literary analysis.
Prerequisites: ENG 105 – Composition I
CSC 110 – Intro to Computers
Credits:
3
CSC-110 is an introductory course that surveys a variety of topics to include history, hardware, software, terminology, com­munications, computer ethics, and societal impact of computers. In addition to computer literacy, students will complete hands-on modules using operating systems, word processing, database, presentation, and spreadsheet software; such as Microsoft Office programs.
SPC 101 – Fundamentals of Oral Communication†
Credits:
3
The fundamentals course develops the basic skills involved in a variety of communication situations, including oral presentations and interpersonal speaking. Emphasis is placed on organization, audience analysis, vocal and physical delivery, listening, nonverbal communication, critical thinking, and methods of dealing with communication apprehension through class discussion and activities.
SPC 112 – Public Speaking
Credits:
3
This course examines both the theoretical and practical basis of speech communication, particularly public speaking. Emphasis is placed on speech preparation, organization, support, delivery, and audience analysis.
SPC 122 – Interpersonal Communications
Credits:
3
Examines how humans communicate in one-on-one situations through personal and professional relationships.
Choose either SPC 101, SPC 112, SPC 122
Plus Humanities: 4 credits
EDU 245 – Exceptional Learner
Credits:
3
This course is an introductory course designed to provide the student with an overview of the field of special education and the policies and programs established for the education of students with various learning abilities. It includes an analysis of characteristics of persons with disabilities, behavior disorders, talented and gifted students, persons with mental health disabilities, and those who have physiological disorders such as asthma. This course is required for teacher licensure in Iowa. Students will complete 25 clock hours in a K-12 Special Education Setting.
PSY 121 – Developmental Psychology
Credits:
3
Studies human development from conception through the lifes­pan. Physical, emotional, social, cognitive and moral aspects are studied in the classroom, by lecture, file/video, projects, and observation and by reading the literature.
Plus Science: 4 credits
Plus Social Behavioral Science: 3 credits
Plus Math: 3 credits
EDU 255 – Technology in the Classroom
Credits:
3
Technology in the Classroom introduces prospective teacher-prep candidates and other interested students to a variety of digital tools and Internet resources along with best practices in the use of tools and technologies for classroom related functions and issues.
PSY 281 – Educational Psychology
Credits:
3
This course is designed for individuals who are or will be working in a vocational environment, which requires them to provide or become part of an educational or training program. Although the course is targeting traditional educational systems, it is directly applicable to virtually any setting in which a person may be required to help an individual or group of individuals learn and understand new information, or to develop new knowledge and skills sets. The fundamentals of this course are designed to assist the student in differentiating learning theory and processes as aspects of human development. Emphasis is placed on the roles of the educators and the students in applying the principles of learning, instruction, evaluation, and pupil management.
Plus Humanities: 3 credits
Plus Math: 3 credits
Plus Science: 4 credits