STEM is the acronym for Science, Technology, Engineering and Mathematics. These disciplines are vital for all people living in today's technological world. Science, Technology, Engineering and Mathematics are part of your world whether you're managing the complex STEM-based decisions of daily life or pursuing STEM careers!
In July 2011, Governor Branstad signed Executive Order 74, creating the Iowa Governor's Advisory Council. The Council is dedicated to growing Iowa's economy by preparing students for 21st century skills by providing STEM educational programming for every learner and creating opportunities to peak STEM interest and engagement. Comprised of business and industry leaders, educators, and policy makers from across the state, the council focuses on creating partnerships that foster STEM education for students in PreK-12th grade. The council is co-chaired by Governor Kim Reynolds and Roger Hargens, President and CEO of Accumold.
Through a competitive application process, Iowa Lakes Community College was designated as the hub of the Northwest Iowa Region. Each region is charged with promoting and implementing quality STEM programming throughout the state.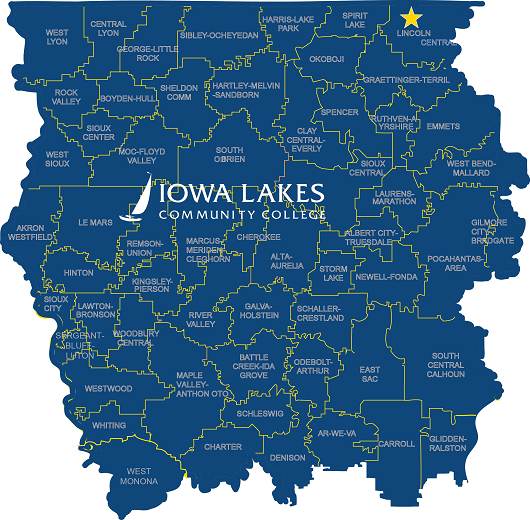 Map is based on school district
The Governor's STEM Advisory Council mission is increasing interest and achievement in STEM (science, technology, engineering and mathematics) studies and careers through partnerships engaging preK-12 students, parents, educators, employers, non-profits, policy leaders and others. The Council provides opportunities that inspire Iowa's young people to become innovative, enterprising contributors to our future workforce and the quality of life in our communities.