There's never a better time to complete the degree you've earned!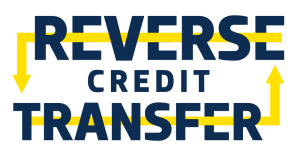 Earn your Associate Degree or certificate from Iowa Lakes Community College even after transferring to a four-year institution.
Reverse Credit Transfer is a collaboration between Iowa Lakes Community College and Iowa's major universities; Iowa State University, University of Iowa, and University of Northern Iowa
Iowa Lakes' students who transfer to a participating Iowa university without completing their associate degree are given the opportunity to combine community college and university credits to achieve an associate degree.
An associate's degree expands your earning potential, increasing average yearly salaries over $7,000 more than a person with a high school diploma.
It opens up opportunities for advancement. Employers are looking for a skilled and educated workforce, and your degree is a valuable achievement that adds to your resume. You enter the workforce well-prepared and qualified for a career in today's competitive job market.
The Reverse Credit Transfer process is simple.
Have your official transcript sent to Iowa Lakes.
Apply for graduation.
Iowa Lakes posts your degree.
There is no cost for official transcript review, degree posting, or commencement ceremony.