Online & Distance Learning
YOU HAVE A GOAL. WE HAVE THE PLAN!
Whether you are seeking a degree or taking credits to transfer to another college or university, Iowa Lakes offers affordable online course options and student-focused advising to help you reach your goals.
What is your Goal For Online Learning at Iowa lakes?
Iowa Lakes Community College is part of the Iowa Community College Online Consortium (ICCOC), comprised of seven Iowa community colleges. Being part of the ICCOC allows us to offer our students a wide range of online credit courses to apply toward their degree.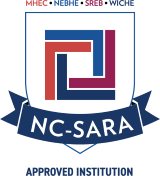 Iowa Lakes Community College has been approved by the state of Iowa to participate in the National Council for State Authorization Reciprocity Agreements (NC-SARA).
NC-SARA is an agreement among member states that establishes comparable national standards for interstate offering of postsecondary distance education courses and programs. The agreement makes it easier for students to take online courses offered by postsecondary institutions based in another state.
Student complaints concerning online courses and programs that Iowa Lakes Community College has not resolved may appeal to the Iowa College Student Aid Commission by calling 877-272-4456.
opens in a new windowClick Here for the Student Complaint Form.