Explore the past with the goal of better understanding societies and cultures while learning to be a skilled critical thinker, communicator, and writer. You will graduate and, following completion of a bachelor's degree in history, qualify for a variety of employment opportunities, including historical consulting, teaching, archivist work, writing, and researching.
Earn your Associate in Arts (AA) degree in History before transferring to a regent university (Iowa State University, University of Iowa, or University of Northern Iowa) to complete your bachelor's degree. Completion of an AA degree at Iowa Lakes will satisfy the required general education prerequisites at the regent of your choosing. Gain knowledge in introductory history courses such as U.S. History to 1877, Western Civilization, and U.S. History Since 1877.
By earning this degree, you'll have met the general course requirements for a specific major of a four-year institution and a transfer major recorded on your transcripts from Iowa Lakes. Requirements may vary among institutions so students should work with an advisor to become familiar with specific requirements of the institution which they plan to transfer.
To earn a Transfer Major Degree, a student must complete all required coursework of that specific major and maintain a 2.0 GPA or higher.
Remember the past and inspire the future with a History Transfer Major degree. You have a goal … we have the plan. APPLY TODAY!
Students who plan to complete their general AA or AS and have a TRANSFER OPTION should contact the college or university to which they plan to transfer to assure that that core courses they take will transfer into their planned major.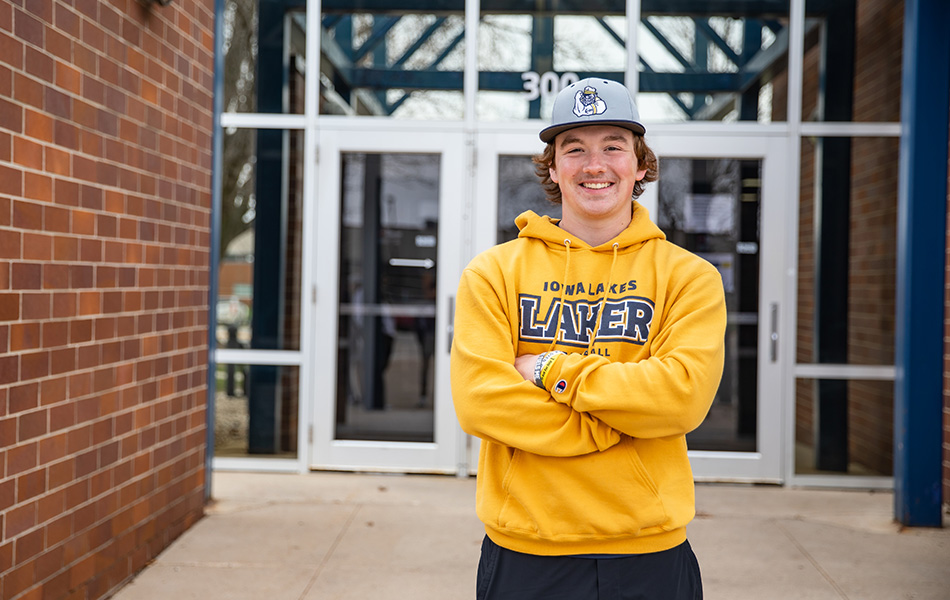 Credits:
3
Emphasis on expository and argumentative writings including a review of usage and mechanics.
Prerequisites: Satisfactory score on the ACT, Accuplacer, ASSET,COMPASS as determined by Iowa Lakes policy
HIS 151 – U.S. History to 1877†
Credits:
3
Study of national foundations, colonial background, revolution, confederation and institutions; nationalism and expansion. The growth of democracy and war plus reconstruction are analyzed.
SDV 103 – Successful Learning
Credits:
1
Students master the academic and personal skills needed to suc­ceed in higher education and in life. Content will cover academic, communication and life management skills. Goal setting, time management, note taking, test taking and how to be a lifelong learner will also be covered.
Plus Math: 3 credits
Plus Science: 4 credits
Plus Elective: 3 credits
Credits:
3
Continuation of ENG 105 with emphasis on research and docu­mentation as well as literary analysis.
Prerequisites: ENG 105 – Composition I
CSC 110 – Intro to Computers
Credits:
3
CSC-110 is an introductory course that surveys a variety of topics to include history, hardware, software, terminology, com­munications, computer ethics, and societal impact of computers. In addition to computer literacy, students will complete hands-on modules using operating systems, word processing, database, presentation, and spreadsheet software; such as Microsoft Office programs.
CSC 116 – Information Computing
Credits:
3
This course presents the basic concepts of information systems and computer literacy. The course incorporates theory as well as hands-on practice which focuses on spreadsheets and database management systems (DBMS).
HIS 152 – U.S. History Since 1877†
Credits:
3
Covers re-union growth of big business, expansion and World War I, rise to world power, isolation, modern industry, depression, recovery and internationalism.
Choose either CSC 110 or CSC 116
Plus Math: 3 credits
Plus Science: 4 credits
HIS 110 – Western Civilization: Ancient to Early Modern†
Credits:
3
Surveys the origins of human civilization in the Near East, the great rise of Greece and Rome and concludes with the Enlighten­ment.
Plus Humanities: 3 credits
Plus Social Behavioral Science: 3 credits
Plus Elective: 7 credits
HIS 111 – Western Civilization: Early Modern to Present†
Credits:
3
Examines an extremely dynamic phase of European and world history.
SPC 101 – Fundamentals of Oral Communication†
Credits:
3
The fundamentals course develops the basic skills involved in a variety of communication situations, including oral presentations and interpersonal speaking. Emphasis is placed on organization, audience analysis, vocal and physical delivery, listening, nonverbal communication, critical thinking, and methods of dealing with communication apprehension through class discussion and activities.
SPC 112 – Public Speaking
Credits:
3
This course examines both the theoretical and practical basis of speech communication, particularly public speaking. Emphasis is placed on speech preparation, organization, support, delivery, and audience analysis.
Choose either SPC 101 or SPC 112
Plus Elective: 9 credits