Electrical Maintenance Technician
Gain hands-on electrical technology experience while earning an Associate in Applied Science degree. As the demand grows for quality electricity, so does the need for qualified electricians. Industry trends show that the need for electricians in the workforce will increase by 20% over the next 10 years.
Our program prepares you to enter the workforce as an electrician helper, in which you will be under the supervision of a Journeyman or Master Electrician. You'll acquire 2,080 hours of on-the-job training right here at Iowa Lakes, contributing toward the typical 8,000 hours required by most states of an apprentice electrician before they may take the electrical examination.
Get real experience and training on power generation, electric motors and controls, renewable energy power systems, HVAC controls and programmable logic control systems. You'll also learn about the National Electrical Code and how to perform electrical work within the residential, commercial and industrial electronics sectors. By studying our broad curriculum, you'll develop both core and specialized skills in electrical technology.
If you want a challenging and rewarding career with room to advance, then our Electrical Technology program may be a great fit for you. Develop the skills needed to be an electrician in our two-year program.
PSEP (Postsecondary Electrical Program) approved through the Electrical Licensing and Inspection Program, State Fire Marshal Division, Iowa Department of Public Safety. Electrical Apprenticeship Training Program, Bureau of Apprenticeship and Training, United States Department of Labor approved.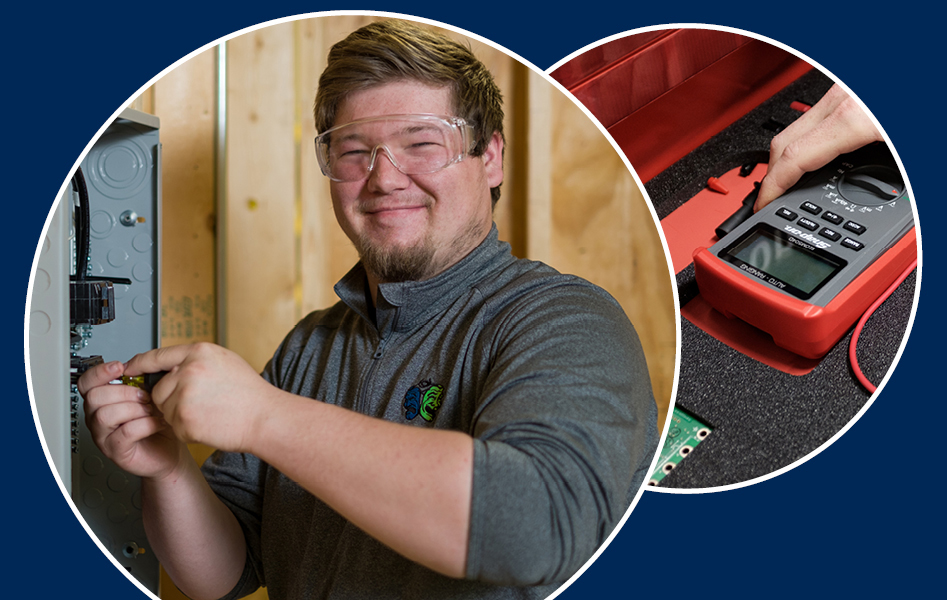 COM 753 – Technical Communications†
Credits:
3
This course is designed to prepare students for the oral and writ­ten communication situations in the working world. The major ar­eas of study include technical communication principles, oral com­munications, composing technical documents, and using Standard English. Writing projects require the use of a word processing program; therefore, computer experience is recommended.
ELE 119 – Basic Electricity I
Credits:
4
Electrical Theory I is an introduction to basic electrical theory and components that make up electrical circuits. Direct Current and Alternating Current will be introduced and basic laws for voltage, current and power relationships will be presented in lecture and laboratory format. Course content will include, but not be limited to basic circuits, electrical components and their applications. Hands-on reinforcement of theory covered during lecture is prac­ticed in lab.
Credits:
2
An introduction to the NFPA 70® National Electrical Code®. The course covers Chapters 1 and 2 of the Code, including the struc­ture of the Code, requirements of electricians, and basic wiring and protection.
ELE 181 – Residential Electric/Electronics Systems
Credits:
4
This course is designed to introduce students to residential wiring. Discussion topics will include safety, planning, using residential building plans, calculating loads, and wiring methods. Lab settings will require the student to use hand tools and wire circuits. The National Electrical Code will be used in depth to determine the requirements used for residential wiring. We will be using hand and power tools in the labs for wiring practices and installations.
Credits:
3
Technical Math includes operations with real numbers, use of fractions, ratios, measurement conversion, algebraic equations, functions, geometry, and right angle trigonometry. Applications are designed around situations students may encounter in industrial settings
SER 114 – Blueprint Reading
Credits:
1
Fundamentals, principles, and practices involved in producing and reading blueprints utilized in the different sectors of the renewable energy industry with a focus on basic blueprint reading.
Credits:
1
A study of the careers available within the renewable energy sec­tor, with an emphasis on analyzing renewable energy industries as related components of a dynamic system. Students will also learn about drafting cover letters, creating resumes, interviewing, and networking.
BUS 102 – Intro to Business
Credits:
3
The basic fundamentals of business. Basic business and economic concepts and terminology; management, marketing, finance, human resource management, accounting and other business areas.
ELE 136 – Basic Electricity II
Credits:
4
Electric Theory II consists of instruction that will build upon experi­ence gained in Electric Theory I. Students will be introduced to advanced concepts of electrical theory.
Credits:
2
A continuation of the NFPA 70® National Electrical Code®. The course covers Chapters 3 and 4 of the Code, including wiring methods, materials, and general equipment.
Prerequisites: ELE 155 – NEC I
Credits:
3
This course discusses motor controls, components, operation, and service. Students will learn electric relay control of AC and DC motors along with troubleshooting motors in an industrial application.
ELE 354 – Commercial Electric/Electronics Systems
Credits:
3
This course introduces students to commercial wiring. It begins with the planning of the commercial installation by using blue­prints, layout, and calculations. They will be required to calculate load for branch circuits, feeders and the electrical service. Wiring methods, luminaires, motors and overcurrent protection will also be covered. The National Electrical Code requirements will be used and explained to understand how they are applied to com­mercial installations. The labs will consist of bending conduit and use hand tools for wiring methods and practices.
Prerequisites: ELE 181 – Residential Electric/Electronics Systems
SER 205 – Solar Energy Concepts
Credits:
3
This class will introduce students to various solar energy concepts that a technician should understand while working on or around photovoltaic (PV) installations.
Prerequisite: ELE 119 – Basic Electricity I
Corequisites: ELE 136 – Basic Electricity II & ELE 195 – Motor Control
ELE 946 – Electrical Technology Internship I
Credits:
6
Students will complete their internship (practicum) through job contact experience to improve their readiness to enter their chosen field and focus them on the advanced training in their second year prior to graduation. A minimum 3-page, APA format­ted synopsis of their experience is required upon completion of the internship.