Practical Nursing Diploma
Develop the skills needed to provide provisional care for individuals, families or communities with basic health care needs in our three-term Practical Nursing (PN) program. After completing the program, you'll become eligible to take the National Council Licensure Examination for Practical Nurses (NCLEX-PN) licensure exam. Licensed practical nurses have the opportunity to work in a variety of settings, from hospitals and rehabilitation centers to long-term care facilities.
Nurses need in-depth training and practical experience to best care for their patients and communicate with other medical professionals. Additionally, they need to be able to help their clients understand the care they're receiving.
Through hands-on classroom training and supervised clinical experience, you'll acquire the critical thinking, communication and practical skills needed to thrive as a nurse. Prepare for these real-life situations while earning your diploma in our PN program.
Program Acceptance Requirements
Preference will be given to those who apply by June 1st for the fall semester and February 1st for the summer semester. In order to qualify for the Iowa Lakes Practical Nursing Diploma program, applicants need to complete the following:
Attain a high school diploma with a minimum GPA of 2.0, or GED/HiSET mean score equivalent, or a college GPA of 2.0 from 7 credits of college-level science coursework attaining a grade of C or higher.
Attain a grade of C or higher in Human Anatomy and Physiology I and Lab (BIO 168), 4 credits.
Pass a 75-Hour Certified Nursing Assistant (HSC 172) course and/or proof of CNA certificate. Documentation must be submitted to the Iowa Lakes Nursing program.
ACT or Accuplacer Results:
• Composite score of 18 or equivalent (Accuplacer). No superscores will be accepted.
• The composite score is based upon English, reading, mathematics and science scores. The additional "Writing Test" is not required.
• Request that the ACT sends official results to the Iowa Lakes Admissions Office. Hand-delivered results will not be accepted.
• Register for the ACT exam by visiting

opens in a new window

www.actstudent.org. Register for Accuplacer by contacting the Iowa Lakes Community College Success Center.
---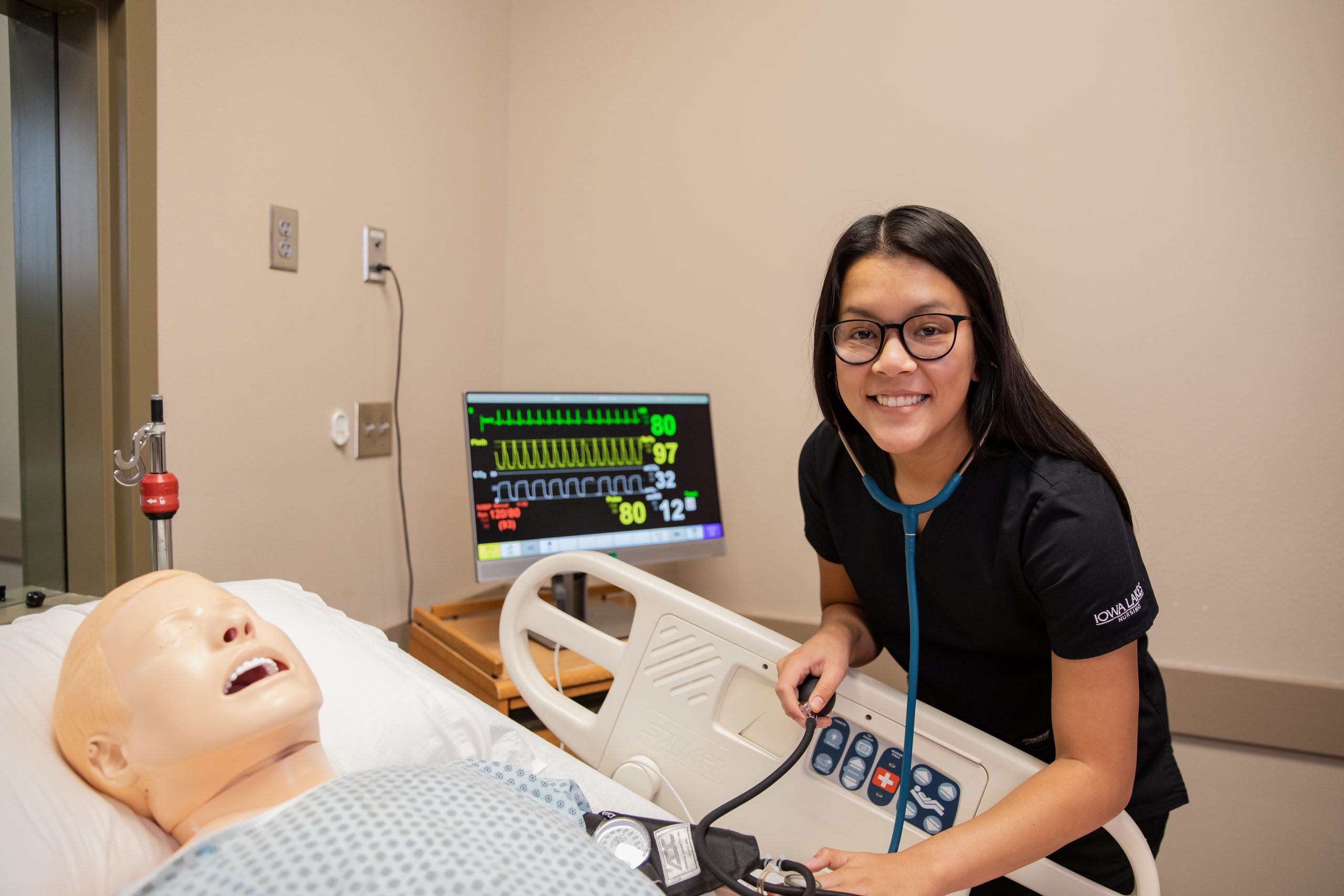 Credits:
3
This course provides the student with the basic background of the nutrients which are essential in maintaining the physical and mental well-being of the human body. An overview of the digestive processes and the relationship to each group of nutrients is presented. Basic nutritional principles of food selection are studied with an emphasis on health promotion throughout the life cycle. Students examine their personal eating habits and identify ways to promote a healthy nutritional status.
BIO 173 – Human Anatomy & Physiology II
Credits:
4
An advanced study of anatomy and physiology. The relationship between body structure and function and homeostasis forms the basis for the course. Pathological processes that result in dys­function and disease are presented. Major topics include diges­tive, endocrine, cardiovascular, lymphatic, respiratory, immune, blood, metabolism, reproduction, urinary, fluid, electrolyte, and acid-base balance. Lecture and laboratory.
HSC 151 – Dosage Calculations
Credits:
1
Dosage Calculations emphasizes the basic math skills and dos­age calculations required of nurse professionals.
Grading: P/Q
PNN 105 – Practical Nursing Concepts I
Credits:
7
Practical Nursing Concepts I is a class/lab/clinical course that in­troduces the role of the practical nurse considering history, trends, and comportment through a caring perspective. The role of the licensed practical nurse will be discussed related to safety, legal implications, and collaborative practice throughout the lifespan. The student will be introduced to the nursing process and healthy lifestyles related to physical assessment. The conceptual focus includes safety, communication, infection control, hygiene, skin integrity, elimination, oxygen principles, fluids, nutrition, mobility/ immobility, comfort, and mental health alterations. The student will practice and perform nursing skills in the lab and clinical setting while caring for client conditions.
PNN 135 – PN Pharmacology I
Credits:
1
PN Pharmacology I is a class/lab course that introduces pharma­cological concepts and classifications. Medication administration including oral, parenteral, enteral, and intravenous therapy main­tenance will be discussed and applied.
Program Pre-Requisites: BIO 168 & HSC 172
HSC 202 – Health Informatics
Credits:
2
Health Informatics will provide an overview of basic computer skills as well as introduce the student to concepts related to information literacy and management. Utilization of informatics within the healthcare delivery systems including application of the Health Information Portability and Accountability Act (HIPAA) will be included.
PNN 106 – Practical Nursing Concepts II
Credits:
8
Practical Nursing Concepts II is a class/lab/clinical course that builds upon concepts related to human needs utilizing the nursing process. The student will demonstrate caring behaviors while learning about physiologic adaptations related to perioperative, acid-base balance, fluid and electrolyte, elimination, sensory, oxygenation/perfusion, mobility, stress, metabolic and protective alterations as related to the medical-surgical client throughout the lifespan.
Prerequisites: Successful completion of first semester PN courses (C or better)
PNN 136 – PN Pharmacology II
Credits:
2
PN Pharmacology II is a course that builds upon pharmacologi­cal concepts presented in PN Pharmacology I focusing on the classification, mechanism of action of the medications and nursing process as it relates to the client/patient condition.
Prerequisites: Successful completion of first semester PN courses (C or better)
PSY 121 – Developmental Psychology
Credits:
3
Studies human development from conception through the lifes­pan. Physical, emotional, social, cognitive and moral aspects are studied in the classroom, by lecture, file/video, projects, and observation and by reading the literature.
COM 725 – Workplace Communications Essentials
Credits:
2
Refining of skills in reading, writing and listening as they apply to the student's vocational needs.
PNN 107 – Practical Nursing Concepts III
Credits:
6
Practical Nursing Concepts III class/preceptorship course that prepares the student for entry-level nursing practice by focusing on nursing judgment, legal/ethical issues and assimilation into the discipline of nursing. Concepts of leadership, management, and professional development, as well as maternal newborn nursing will be taught. Emphasis is on the role of the nurse as the provid­er and coordinator of care with simple to complex client conditions throughout the lifespan, including the child-bearing families. Management of simple to complex human needs including: oxygen­ation, perfusion, intracranial regulation, mobility, and inflammation/ infection/immunity.
Prerequisites: Successful completion of second semester PN courses (C or better)
† indicates a course that fulfills the diversity requirement. This course may also fulfill another general AA requirement.
Mission Statement
Iowa Lakes Community College Nursing program facilitates the student's learning in the profession of nursing.
Philosophy of Nursing Education
The Nursing program provides an education that promotes the economic development of the community by preparing graduate nurses for employment as practical or registered nurses.
We believe health is holistic, encompassing physical, emotional, spiritual, and cultural components.
We believe nursing is:
• A caring profession with core values of honesty, integrity, respect, and accountability
• An art and applied science
• Health education and maintenance through social determinants
• Collaborative and interdisciplinary
• An evidence-based practice
• Providing safe and efficient patient and client care
• Application of unique language, knowledge, and skills
• Utilization of the nursing process and critical thinking
• A practice that functions within legal and ethical parameters
We believe nursing education:
• Is a lifelong process
• Builds on the learner's knowledge and experiences
• Is interactive with shared accountability for learning
• Fosters critical thinking and scientific inquiry
• Correlates theory and clinical practices
• Instills the core values of nursing
opens in a new windowNursing Program ACEN Candidacy Notice to Studentsopens PDF file
Related Documents:
U.S. Department of Education New Regulations
As of July 1, 2020, the U.S. Department of Education implemented new regulations that professional nursing programs (LPN and RN) must adhere to – Regulation 34 CFR 668.43 (a) (5) (v). In compliance with this regulation, Iowa Lakes Community College PN & AD Nursing is providing the following information:
Iowa Lakes Community College Practical Nursing and Associate of Science degree, nursing curriculum meets state educational requirements for professional licensure in all 50 states.
Iowa Lakes Community College Practical Nurse and Associate of Science degree, nursing curriculum does NOT meet the state educational requirements for professional licensure in the following states/jurisdictions: None.
Iowa Lakes Community College has not made the determination if the Practical Nurse and Associate of Science degree, nursing curriculum meets the state educational requirements for the following states/jurisdictions: Alabama, Alaska, Arizona, California, Delaware, Florida, Georgia, Hawaii, Iowa, Kansas, Kentucky, Louisiana, Maine, Maryland, Michigan, Minnesota, Nebraska, New Hampshire, New Mexico, North Carolina, Ohio, Oklahoma, Rhode Island, South Dakota, Vermont, Washington DC, West Virginia, Wisconsin, and Wyoming.
NOTES:
This information is only for initial licensure by exam requirements for the state listed.
Students should contact the State Board of Nursing in which they wish to be licensed for specific licensing requirements.
Students may meet with the Director of Nursing Education if they wish to be licensed in another state.
Disclaimer: This information has been gathered from the National Council of State Boards of Nursing (NCSBN) website and will be updated annually on July 1. Iowa Lakes Community College assumes no liability or responsibility for any errors or omissions in the information contained in this resource. It is your responsibility to verify accuracy by visiting the NCSBN website at: opens in a new windowhttps://www.ncsbn.org/14730.htm