Gain hands-on agriculture production experience while earning an Associate in Applied Science degree. As technology continues to evolve, workers need as much specialized training as possible to prepare for a career in the agricultural industry. You will receive on-the-job training working on our 300+ acre college-owned farm.
With the option to specialize in crops, swine or beef, you will become familiar with a wide variety of production methods and examine the latest developments in agriculture technology. In addition to working in the farm laboratory, you will become acquainted with today's technologies, which include GPS/ GIS, VRT, real-time Ultra-sound, electronic identification, artificial insemination, embryo transfer and various computer software programs.
Start your career in the production sector of agriculture with the skills and experience of a specialist. Gain knowledge of agriculture principles as well as the role of marketing and effective communication in agriculture. Through our Occupational Experience portion of the program, you'll also have the opportunity to earn money while gaining experience in the agribusiness environment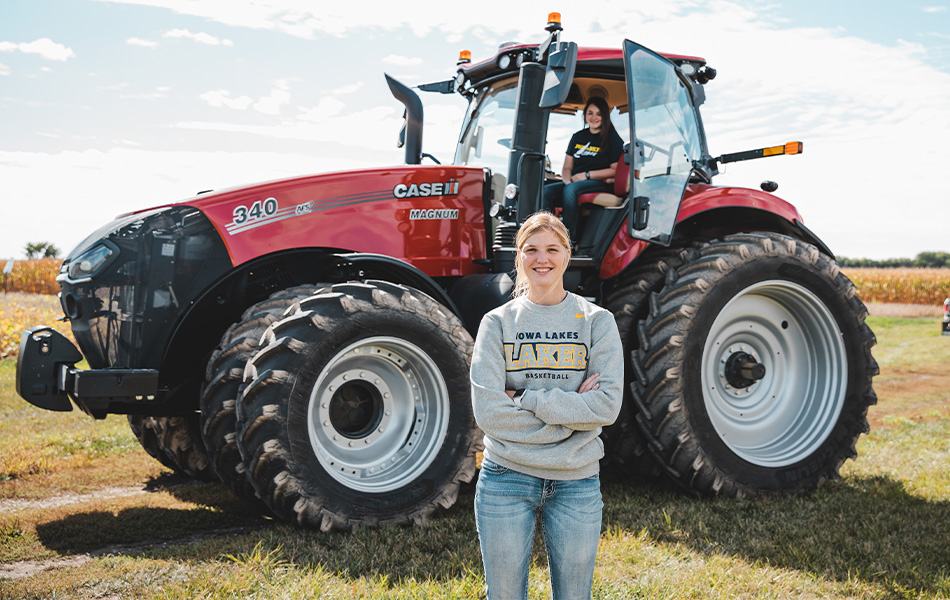 AGA 154 – Fundamentals of Soil Science
Credits:
3
An introduction to basic soil formation, classification, physical properties, water, organic matter, pH, and fertility.
AGC 100 – Agricultural Computer Applications
Credits:
3
This course includes basic knowledge of computer hardware, software and operation with an agriculture emphasis. Students will explore agricultural related applications.
AGC 111 – Basic First Aid/Life Support
Credits:
1
This course teaches American Red Cross basic first aid and American Heart Association cardiopulmonary resuscitation (CPR). Students will obtain a 10-Hour Occupational Health and Safety Association (OSHA) card, included in this training: tractor safety, chemical safety, and livestock safe handling practices.
AGC 130 – Mathematics I-Agriculture
Credits:
3
Provides the student with math skills relating to agricultural economics, agribusiness, animal science, agronomy, and agricultural mechanics. Applies the basic math functions and basic algebra to practical agricultural situations.
AGC 936 – Occupational Experience
Credits:
3
Occupational Experience
AGS 113 – Survey of the Animal Industry
Credits:
3
This course is an introduction in animal science including vari­ous species and breeds of domestic animals and gives them an appreciation for the principles of production, biological principles, stewardship, and animal industries as they relate to animal pro­duction in the U.S. and the world.
WBL 101 – Exp. Careers: Ag, Food & Natural Resources
Credits:
1
This course is an orientation to curriculum and career opportunities in the Agriculture Industry. Emphasis of the course will be placed on
curriculum planning and career exploration including identifying interests, abilities, and value. Learners will be exposed to the various
opportunities available throughout their program of study. This course will acquaint students with basic skills and practices for the agriculture
industry.
Plus choose Ag Electives: 2 credits
AGA 114 – Principles of Agronomy
Credits:
3
Covers the basic principles of crop production, including classification, soil-plant interrelationships and growth process in response to environment.
AGS 319 – Animal Nutrition
Credits:
3
Examination of nutritional principles, digestive systems, composition and nutritional characteristics of common feedstuffs, ration formulation and recommended animal feeding programs.
BUS 161 – Human Relations†
Credits:
3
Students are given the opportunity to apply human relations concepts and evaluate experience and observations. Social skills required in various occupational settings will be developed, emphasizing how appropriate personal attitudes lead to social and business success.
Plus choose Ag Electives: 5 credits
Ag Lab: 1 credit