Prepare for a variety of careers in a field that is projected to keep growing, with our dual-track Construction Technology program. Whether you choose to work as a construction superintendent, estimator or home energy auditor, you'll establish a foundational skill-set and get real work experience right here at Iowa Lakes.
Through off-campus job opportunities, like designing and building a home from the ground up or working on home additions, you'll have the chance to learn about concrete and foundations, framing, exterior finishing, roofing, drywall, energy efficient construction practices, the building envelope and finish carpentry. Since our program has a strong emphasis on energy efficient construction, you'll become familiar with the "house-as-a-system" concept and "green" building techniques.
Get your hands on our Energy Auditor-approved tools, including infrared thermal imaging cameras, blower door testers, duct testers and other various metering tools. Develop competence in using these tools to assess a home's energy efficiency.
In just one year, you'll earn your diploma and a skill-set that gives you an edge in the employment market. If you dream of running your own construction business or you simply want to have more career options available, enroll in the two-year program to earn an Associate in Applied Science (AAS) degree. In the second year, you'll build on what you've already learned by studying more business and accounting practices, gaining more advanced computer skills, and learning management and other valuable skills needed for supervisory positions or self-employment in the construction industry. You'll also get more experience with advanced estimating, home design and CAD operation.
The best part is you can pursue your degree while continuing to work in the field and fine-tune your skills. You'll have more opportunity in the second year to customize your schedule and classes to fit your needs.​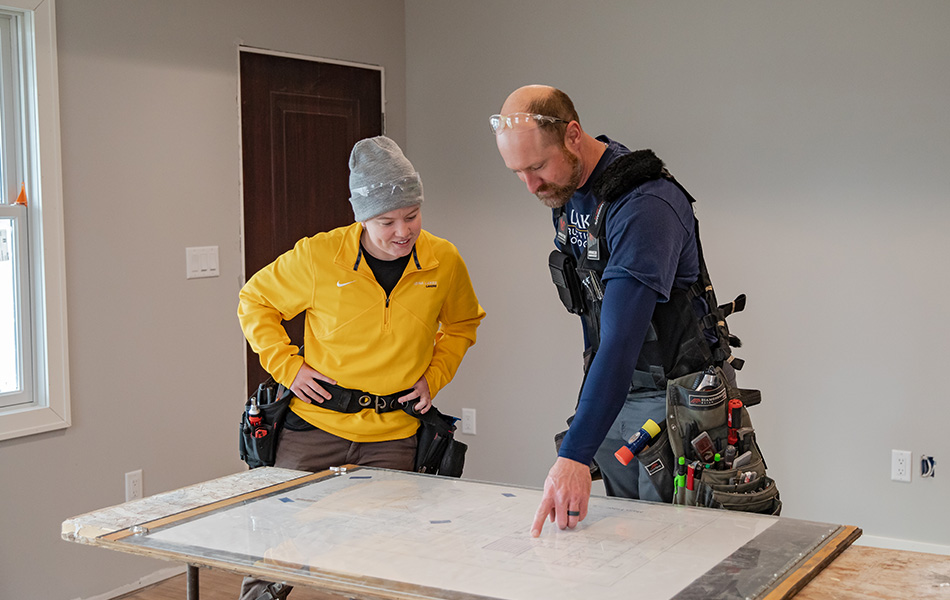 BUS 102 – Intro to Business
Credits:
3
The basic fundamentals of business. Basic business and economic concepts and terminology; management, marketing, finance, human resource management, accounting and other business areas.
BUS 161 – Human Relations†
Credits:
3
Students are given the opportunity to apply human relations concepts and evaluate experience and observations. Social skills required in various occupational settings will be developed, emphasizing how appropriate personal attitudes lead to social and business success.
Credits:
3
The Construction Internship II provides on the job training for area of student interest. This course will have a manager's or super­visor's emphasis with job shadowing and leadership skills the main focus. Students will be required to document their time and discuss with instructor during scheduled meetings.
MGT 101 – Principles of Management†
Credits:
3
Principles of Management provides the student with a conceptual framework for understanding the basic theories of management. Emphasis is placed on the internal and external environment, ethics, planning, goal setting, decision making, organizational structure, motivation and group dynamics, and effective control mechanisms for establishing and accomplishing business objectives.
MKT 140 – Principles of Selling
Credits:
3
Studies the concepts of selling. Includes an understanding of the customer; realizing the importance of product knowledge; secur­ing and conducting sales presentations, analyzing and handling different types of customers; steps in selling; and the importance of maintaining good will.Personality development and principles of selling are stressed.
ACC 111 – Intro to Accounting
Credits:
3
Introduces the basic principles of accounting and the recoding of simple business transactions using the double entry system. Includes the accounting procedures of journalizing transactions, posting to the ledger, making a trial balance, creating receipt and disbursement of cash.
CON 125 – Construction Estimating II
Credits:
3
Construction Estimation II is an extension of the concepts learned in the first year in Construction Estimation. Pro­cesses learned in the first year class will be implemented and put into practice. Industry professionals will present different methods they use along with computerized esti­mation programs. Students will develop different estima­tion sheets for a specific task and implement into practice.
CON 351 – Computer Generated Blueprint and Design
Credits:
3
This course is an overview of basic computer aided residential construction drafting and design. It explores concepts, issues and methods in computer-aided design. Emphasis is placed on the creation of two-dimensional as well as three-dimensional models using the design program.
CSC 110 – Intro to Computers
Credits:
3
CSC-110 is an introductory course that surveys a variety of topics to include history, hardware, software, terminology, com­munications, computer ethics, and societal impact of computers. In addition to computer literacy, students will complete hands-on modules using operating systems, word processing, database, presentation, and spreadsheet software; such as Microsoft Office programs.
MKT 110 – Principles of Marketing
Credits:
3
This course is designed to give students a clear understanding of the elements of the marketing mix (4P's) and explanation of environmental issues that are employed in business to gain a competitive edge in the global economy. Includes identification of consumer and organizational needs and an understanding of the basic consumer behavior components.