Career Connect Serving As A Way For Students To Jump Start College Careers Discussed At Iowa Lakes Board Meeting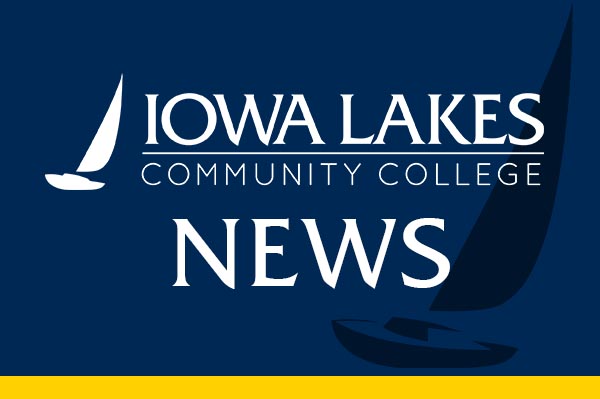 (Spirit Lake, Iowa) The Iowa Lakes Board of Trustees met Tuesday afternoon for their regularly scheduled board meeting. Tuesday's meeting was held on the Spirit Lake Campus.
Robert Leifeld, Vice President of Administration, kicked off Tuesday's meeting by presenting the list of spring graduates to the Iowa Lakes Board, which was approved. Kari Hampe, Director of High School Partnerships, was then introduced and shared an update regarding the High School Partnerships at Iowa Lakes.
Through High School Partnerships at Iowa Lakes, students can get a jumpstart on their college career through the Career Connect program. Students can choose one or more programming options to earn college credit in high school and work toward achieving educational goals.
"Iowa Lakes offers college credit through concurrent enrollment, where students can earn credit at their high school, on campus at Iowa Lakes, or through online courses," said Hampe.
Iowa Lakes also offers a Career Academy where students earn college credit through career and technical training courses on the campuses of Iowa Lakes.
"Iowa Lakes offers a wide selection of Career Academy courses that align with programs offered on the Algona, Emmetsburg, Estherville, Spencer, and Spirit Lake campuses," said Hampe.
Students interested in Career Academy can select from Automotive Technology, Digital, Social and Broadcast Productions, and Patient Care on the Algona Campus. Agriculture Production Technology, Automotive Technology, Boat and Watercraft Technician, Construction Technology, Farm Equipment & Diesel Technology, Culinary and Hospitality Management, Powersports & Power Equipment Technology, and Welding Technology are all offered on the Emmetsburg Campus. Computer Programming, Criminal Justice, Electrical Technology, Engineering Technology, Environmental Studies, Graphic Design, Heating, Ventilation & Air Conditioning (HVAC) Technology, and Human Services on the Estherville Campus. Patient Care on the Spencer Campus and new in fall 2023, Agriculture Production Technology, Patient Care, Electrical Technology, and HVAC Technology on the Spirit Lake Campus.
Hampe also shared, "New this summer is the Summer College Credit program that supports efforts to meet industry needs while preparing high school students for college and careers in high-demand fields."
The Summer College Credit Program includes various online course offerings for students in grades 9 through 12 in Computer Programming, Practical Nursing, and Business Administration & Management.
Iowa Lakes currently partners with 12 schools within the Iowa Lakes district, with nearly 2,000 registrations between the fall 2022 and spring 2023 terms. Additional services offered through High School Partnerships are advising and registration, work-based learning through job shadowing, mock interviews, workplace exploratory events and tours, classroom speakers, career exploration days, and more.
The Iowa Lakes Career Connect program is NACEP Accredited, and the High School Partnerships department is a member of the Iowa Alliance of Concurrent Enrollment Partnerships.
For more information about High School Partnerships or the Career Connect Program at Iowa Lakes, contact Kari Hampe at 712-852-5228, or visit iowalakes.edu.
Executive Director of Community and Business Relations Jolene Rogers received Board approval for Iowa Lakes to move forward with the new $2.010 million New Job Training Program Bond Sale. Seven companies were included in the project, which generates a training fund for new employees for the companies included in the bond. Northland was the low bid for the 10-year bond with a true interest rate of 4.462216 percent.
Additionally, the Iowa Lakes Board approved setting in-state tuition at $202 per credit hour, with Minnesota residents at $207 per credit hour and non-residents and international students at $216 per credit hour.
The next meeting of the Iowa Lakes Community College Board of Trustees will be held on Tuesday, June 20, 2023, at the Spencer Campus, 1900 Grand Ave, Spencer.
###