Celebrate Service! RSVP Celebrates National Volunteer Month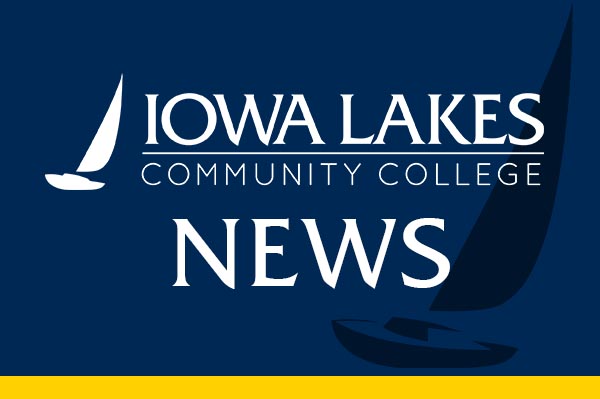 April is National Volunteer Month. As RSVP "Celebrates Service," we shine a light on the people who find their purpose in volunteerism. RSVP honors the volunteers, all 55+, who bring their lifetime of experience and wisdom to address local needs and create stronger communities and schools in northwest Iowa.
"During April, we pay tribute to volunteers and recognize everyone who takes the time to help others. Acts of kindness help build a brighter future and remind us that we can all play a role in making our communities safer, healthier, and stronger," said Dawn Bernhard, the Northwest Iowa RSVP Director.
RSVP is one of three national AmeriCorps Seniors programs managed and grant funded by AmeriCorps. Northwest Iowa RSVP has been active for 45 years in Clay, Dickinson, Emmet, Kossuth, and Palo Alto counties. Iowa Lakes Community College has served as the program's only local sponsor since 1977.
RSVP matches volunteers' skills, experience, and interests with placement in volunteer opportunities in area elementary schools, food banks, charity-based thrift stores, blood drives, and community-based activities and events.
Volunteers lift the spirits of their communities with their service! Nationally, over 200,000 RSVP volunteers are actively involved in their communities. In 2021, 344 Northwest Iowa RSVP volunteers served 24,384 hours in their communities. As management of the pandemic evolved, people returned to their community missions, and the Northwest Iowa RSVP team added 109 new volunteers.
Clay County: Forty-one RSVP volunteers dedicated 3,256 hours as Pen Pals with local students; sorted, organized, and delivered free Literacy Partners books to 1,218 PreK-elementary students; provided home-delivered meals; prepared and served meals for area residents; assisted the Mobile Food Pantry; managed donations at Many Hands Market; and completed many sewing and knitting projects for residents.
Dickinson County: One hundred-seven RSVP volunteers dedicated 7,501 hours as Pen Pals and Reading Buddies; organized and delivered free Literacy Partners books to area students; assisted with the Dickinson County Nature Center; served American Red Cross blood drives; were Senior Health Insurance Information Program (SHIIP) counselors and schedulers; supported food security efforts with Meals on Wheels/Volunteer Action Center, Upper Des Moines Opportunity, Inc. (UDMO), and Lake Park Food Pantry; advocated for children in the court system; groomed and patrolled walking and biking trails; managed donations and distributions for Cherished Again and were involved in many community activities and events.
Emmet County: Sixty-six volunteers dedicated 6,512 hours as Pen Pals with students; managed donations for Thrifty's; served as SHIIP counselors; supported food security efforts with the Mobile Food Pantry/Good News Church, UDMO, and the Estherville Senior Center; managed and conducted research at the Emmet County Historical Museum; served American Red Cross Blood Drives; and supported a wide range of community activities and events.
Kossuth County: One hundred-thirteen RSVP volunteers dedicated 5,435 hours in 31 unique placement opportunities. Volunteers served as Pen Pals and Reading Buddies with students and delivered Free Literacy Partner books to elementary students. Volunteers also supported food security efforts with the Kossuth County Food Pantry and Meals on Wheels, assisted Exceptional Treasurers, the Kossuth County CARE Team, the Kossuth County Historical Society, and helped with LifeServe blood drives. Dedicated RSVP volunteers serve as SHIIP counselors and helpers at Kossuth Regional Health Center. In addition, RSVP volunteers supported the Kossuth County Historical Society and Water's Edge Nature Center, as well as a wide range of community activities and events.
Palo Alto County: Seventeen volunteers dedicated 989 hours to combat food insecurity and manage the Feed Our Kids program; provide service with the Emmetsburg Multi-Purpose Center, St. Pat's Association, the Veterans' Administration, Emmetsburg Chamber of Commerce, Lakeside Lutheran Home, Palo Alto County Health Systems and West Elementary.
In addition to helping others, RSVP volunteers also help themselves by living active, healthy lives through volunteering. A growing body of research points to mental and physical health benefits associated with volunteering, including lower mortality rates, increased strength and energy, decreased rates of depression, and fewer physical limitations.
For more information about Northwest Iowa RSVP opportunities, please contact the RSVP Coordinator at the nearest location to you:
Algona Campus – Dawn Bernhard, 515.295-8522
Emmetsburg Campus– Kathy Pudenz, 712.852.5236
Estherville Campus – Megan Spurgin, 712.362.7929
Spencer Campus – Mary Schomaker, 712.262.8858
Spirit Lake Campus– DeNeitt VanDenBroeke, 712.336.6577