More Than 40 Students Leaders Introduced At Iowa Lakes Trustee Meeting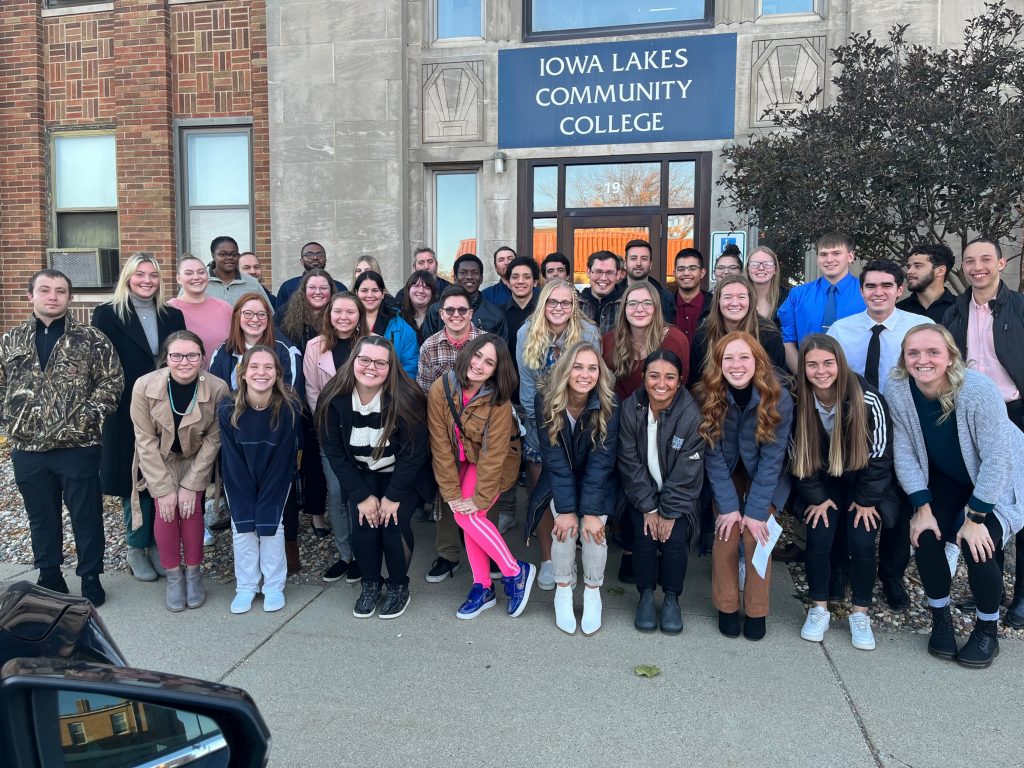 (Estherville, Iowa) More than 40 student leaders attended the Iowa Lakes Board of Trustees Meeting Tuesday afternoon.
Julie Williams, Executive Dean of Students, introduced students serving in student leadership positions at Iowa Lakes Community College as Student Senators, Laker Crew Ambassadors, and Resident and Graduate Assistants. Each student leader shared their educational plans and why they decided to attend Iowa Lakes.
Iowa Lakes student leaders present at Tuesday's meeting included:
Emmetsburg Campus
Mackenzie Peter, Student Ambassador, Marshalltown, Iowa
Lauren Thomas, Student Ambassador, York, Neb.
Haley Green, Student Ambassador, Plattsmouth, Neb.
Michelle Cuevas Beltran, Student Ambassador, Bayamon, Puerto Rico
Allison Probst, Student Ambassador, Alton, Iowa
Austin Lyons, Student Senate, Jackson, Minn.
Andres Santana, Student Senate, San Diego, Carabobo, Venezuela
Owen McKim, Student Senate, Spirit Lake, Iowa
Mariah Geistfeld, Student Senate, Saint James, Minn.
Elise Hinders, Student Senate, Newell, Iowa
Marcelo Rojas, Student Senate, Piura, Peru
Dylan Short, Resident Advisor, Cherokee, Iowa
Estherville Campus
Chloe Krohn, Student Ambassador, Lawton, Iowa
Cole Danner, Student Ambassador, Estherville, Iowa
Jamie Lauck, Student Ambassador, Milford, Iowa
John Tiller, Student Ambassador, Philippines
Mercedes DePyper, Student Ambassador & Student Senate, Graettinger, Iowa
Rachel Breck, Student Ambassador & Student Senate, Waseca, Minn.
Raynee LaGrange, Student Ambassador, Amana, Iowa
Rubin Charles, Student Ambassador, Spirit Lake, Iowa
Sarah Floyd, Student Ambassador, San Antonio, Texas
Scottie Neubauer, Student Ambassador, Ida Grove, Iowa
Trinity LaGrange, Student Ambassador, Amana, Iowa
Tori Zemler, Student Ambassador, Spirit Lake, Iowa
Adelee Reinhardt, Student Senate, Estherville, Iowa
Adrienne Rosfjord, Student Senate, Estherville, Iowa
Brooke Wright, Student Senate, Mansfield, Ark.
Cole Danner, Student Senate, Estherville, Iowa
Jaden Templin, Student Senate, Estherville, Iowa
Jaydan Nitchals, Student Senate, Estherville, Iowa
Karisa Hernandez, Student Senate, Houston, Texas
Spencer Campus
Louise Godden, Student Senate, Stevenage Hertfordshire, England
Andre Sarmento, Student Senate, Salvador, Brazil
Graduate Assistants
Shawn Bryant- Syracuse, N.Y.
Chris Witzke – Dakota City, Iowa
Khalil Robinson- Fresno, Texas
Marshall Carpenter- Bozeman, Mont.
Simon Kitzis- Newton, Mass.
Sheldon Spelman- Norman, Okla.
Sydney Swanson- Etherville, Iowa
Dakota Young- Arboles, Colo.
Kyle Norris, Executive Dean of the Emmetsburg Campus, was approved to move forward with two grant applications to the Palo Alto County Gaming Development Corporation (PACGDC), one mini-grant ($5,000 or less) and one full grant ($5,001 or more).
Norris explained, "The first grant application is for a mini-grant to support the needs of the library complex by facilitating the purchase of a Clevertouch. The full grant application is for the Smith Wellness Center for the replacement of workout equipment, including items such as treadmills, ellipticals and other needs within the cardiovascular room."
The next meeting of the Iowa Lakes Community College Board of Trustees will be held on Tuesday, November 15, 2022, at the Administration Building, 19 South 7th Street, Estherville, Iowa, at 4:30 pm.
###