Iowa Lakes Trustees Receive Update On Northwest Iowa STEM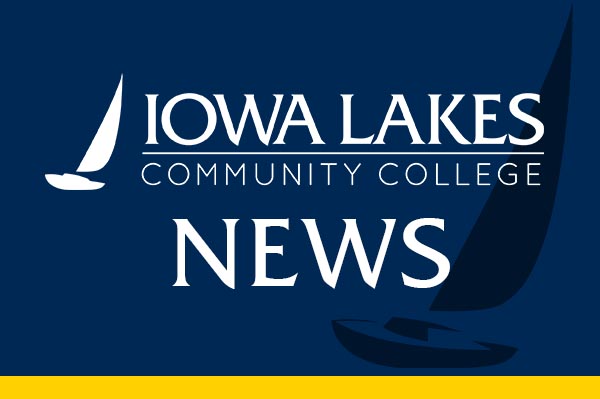 (Estherville, Iowa) The Trustees of Iowa Lakes Community College convened at the Administrative Offices in Estherville late Tuesday afternoon for their annual organizational meeting. The 2020-21 board was adjourned by the Board of Trustees President, Janice K. Lund, and the 2021-22 board was then called to order by the Board Secretary, Cindy Oviatt.
The Trustees elected officers with Janice K. Lund re-elected as Board President and Pat Kibbie re-elected to the position of Vice President. Cindy Oviatt was appointed to serve as Board Secretary and Jeff Soper as Treasurer. Scot Bauermeister was selected as the attorney to represent the Trustees.
Additionally, board members Bob Jennings, District 7, Pat Kibbie, District 6, and newly elected board member Curt Petersen, who represents District 3, were sworn into office.
After completing all organizational business, Robert Leifeld, Vice President of Administration, began Tuesday's meeting by introducing Mary Trent, Northwest (NW) STEM Regional Manager. Trent provided the board with an overview of STEM In Iowa and the impact STEM has on the Iowa Lakes service area.
Trent shared, "The Governor's STEM Advisory Council mission is increasing interest and achievement in STEM (science, technology, engineering, and mathematics) studies and careers through partnerships engaging PreK-12 students, parents, educators, employers, non-profits, policy leaders, and others. The Council provides opportunities that inspire Iowa's young people."
The NW Iowa STEM Region covers 19 counties and 89 school districts, with unique programming options such as STEM BEST (Business Engaging Students and Teachers) and STEM Scale-Up Programs.
"Through legislative appropriation, the Iowa Governor's STEM Advisory Council can offer exemplary STEM programs throughout the state. The STEM Scale-Up Program has successfully increased student interest and achievement in STEM across all demographics. The 2022-23 STEM Scale-Up Program Menu will be announced on January 10, 2022," said Trent.
Delaine Hiney, Executive Director of Facilities Management, shared proposed concepts for the Iowa Lakes Career Academy on the Spirit Lake Campus.
Iowa Lakes Community College was one of four community colleges to receive a one million dollar competitive grant through the Career Academy Incentive Fund to prepare more high school students for college, post-secondary training, and workforce success.
Hiney shared, "The re-imagined Spirit Lake Campus will provide a Career Academy that will provide opportunities for students to attend classes and have equal access to hands-on, work-based learning using the latest technology."
The Iowa Lakes Career Academy has four proposed program offerings: Electrical, HVAC (Heating, Ventilation, and Air Conditioning), Patient Care/Nurse Aide, and Agribusiness Technology. Iowa Lakes will partner with the Spirit Lake, Okoboji, Harris-Lake Park, and Estherville Lincoln Central school districts.
"The classrooms will contain new technologies, the ability to hold virtual or interactive classes, and new equipment. A proposed mobile computer lab will be available to any classroom in the facility. Our goal is to provide maximum flexibility in the Iowa Lakes Career Academy Spirit Lake Campus to embrace current and future needs," said Hiney.
Jolene Rogers, Executive Director of Community and Business Relations, shared general updates and received acceptance for one new 260E job training agreement from Kossuth County.
The Trustees discussed recently attended meetings in other business before adjourning the meeting.
The next meeting of the Iowa Lakes Community College Board of Trustees will be held on Tuesday, January 18, 2022, at the Administration Building, 19 South 7th Street, Estherville, Iowa, at 4:30 pm.