Iowa Lakes Students Selected for Okoboji Entrepreneurial Institute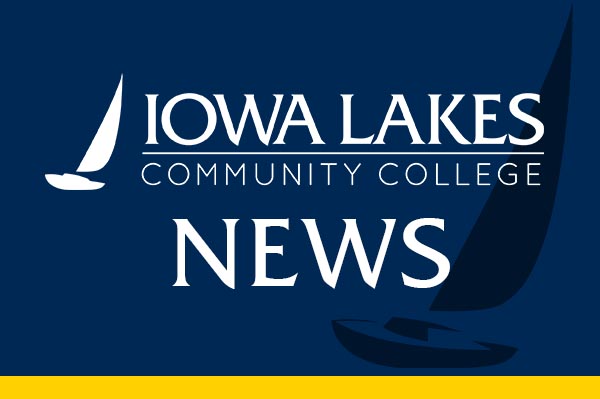 Four Iowa Lakes students were selected to attend the exclusive Okoboji Entrepreneurial Institute (OEI).
Every August, OEI brings 32 students from Buena Vista University, Iowa Lakes Community College, Iowa State University, University of Iowa, and the University of Northern Iowa to participate in a week-long college credit course focused on entrepreneurship and teamwork. This year Iowa Lakes students Zoey Zeller of Ottosen, Dawson Hatch of Greenville, Ethan Marth and Olin Myhre of Estherville were selected for participation.
"The Okoboji Entrepreneurial Institute sounded like an excellent opportunity to expand my learning and do it in a non-traditional way. I am a massive believer in non-traditional, outside of the classroom learning, and to me, that's exactly what OEI is. During my time here, I want to increase my knowledge and passion for sales and marketing. I also want to dig into the other factions and degrees that go into business and entrepreneurship," said Myhre, a sophomore majoring in Sales and Marketing.
The course consists of educational seminars, entrepreneurial venture computer simulations, networking with area entrepreneurs, pitch competitions, and fun on Iowa's Great Lakes beaches.
"I applied to go to OEI because it sounded like an amazing experience where I would make some great connections and learn how to further my business that I already have begun. I hope to learn some new skills about how to build my business, and I hope to make some long-time connections with people to who I can ask business questions too even after OEI is over," explained Zeller.
Zeller, a sophomore pursuing a Sales and Marketing degree, has already started her first business called Rural Creations, which focuses on longarm quilting for custom orders and sells baby quilts and wood signs. Zeller will be attending the Algona craft fair this year in October with her quality handmade products.
Hatch, a Junior pursuing Business Economics, applied for OEI because his business teacher Lecia Berven, an Iowa Lakes Instructor who recently retired, recommended the program.
"It looks like an excellent opportunity to gain a lot of great information. One of my friends' brothers went to OEI and had a great experience. I hope to learn more about business and what it took for the host families to be successful. I'm looking forward to meeting new people and creating contacts," shared Hatch.
Marth, a recent Iowa Lakes graduate with an Associate of Arts, focused on taking courses geared towards music, business, and entrepreneurship while attending Iowa Lakes and plans to obtain a Bachelor's degree in Digital Cinematography in the future.
Marth explained, "OEI came highly recommended by a couple of my professors at Iowa Lakes, and after looking into it and hearing nothing but good things about it both online and from past class members, I decided to apply. With the potential to learn quite a bit more in the business realm, it came as one of the best entrepreneurial opportunities in northwest Iowa. As a student interested in business and entrepreneurship – and especially in the small business and start-up arenas – I hope to gain as much insight and hands-on personal experience and skills through the simulation and lecture opportunities that OEI presents. I then hope to apply these skills to my future business ventures. I also hope to get to know some of the other entrepreneurs from around the area and hear their stories and firsthand knowledge gained through successes and failures."
The Okoboji Entrepreneurial Institute is a cooperative effort of the State Board of Regents, the Iowa Department of Economic Development, the Pappajohn Entrepreneurial Centers at the University of Iowa, Iowa State University, and the University of Northern Iowa, as well as the Iowa Lakes Corridor Development Corporation.