Iowa Lakes Students Awarded $399,013 In Last Dollar Scholarships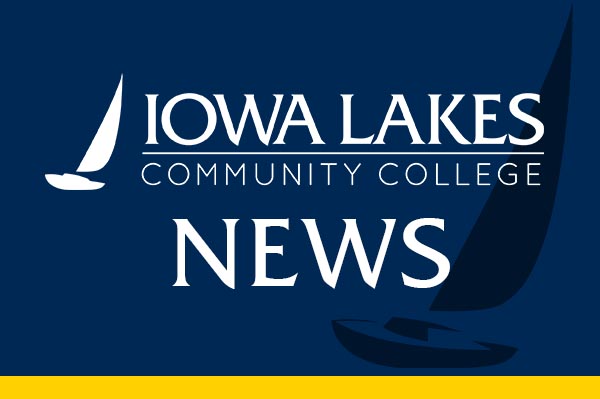 (Estherville, Iowa) The Last Dollar Scholarship program awards $399,013 in scholarships to 198 students at Iowa Lakes Community College enrolled in career and technical programs for the Fall 2021 term.
The Last Dollar Scholarship fills tuition gaps not covered by other federal and state grants and scholarships for eligible applicants enrolled in qualifying specific programs teaching the skills needed in high-demand industries. As a result, graduates of these programs carry minimal student debt when they enter the workforce and frequently obtain good-paying jobs.
"I encourage any student who is a resident of the state of Iowa and who is considering going into one of the supported majors to complete a FAFSA by July 31, 2022. The Last Dollar Scholarship is not need-based, so it is available to all students who qualify, but to be considered for the scholarship, students need to complete the FAFSA by the deadline. The Last Dollar Scholarship has helped many students get their degree with minimal to no debt," explained Stephen Pelzer, the Director of Financial Aid at Iowa Lakes.
To qualify for the Last Dollar Scholarship, students must register for specific college programs in four key industries: health care and biosciences, information technology, advanced manufacturing production, installation, maintenance, and construction and engineering.
The following programs offered at Iowa Lakes Community College qualify for the Last Dollar Scholarship: Agriculture Production Technology, Aviation & Airport Management, Business Administration & Management, Computer Programming, Construction Technology, Digital, Social, & Broadcast Productions, Electrical Technology, Environmental Studies, Farm Equipment & Diesel Technology, Heating, Ventilation & Air Conditioning, Hotel & Restaurant Management, Nursing, Surgical Technology, Veterinary Technician, Welding, and Wind Energy & Turbine Technology.
For more information about the Last Dollar Scholarship, visit iowalakes.edu/lds.