Iowa Lakes Receives Employer Innovation Grant: Working At Heights Certification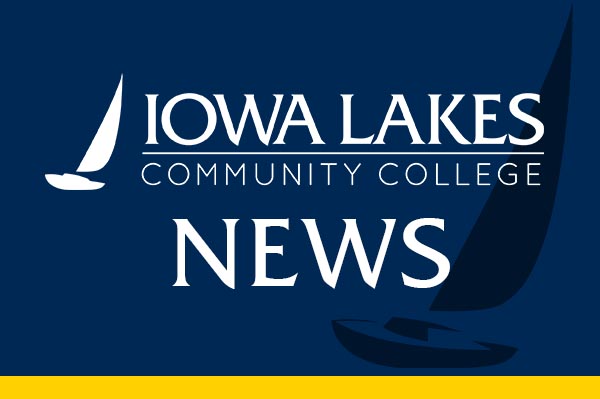 (Estherville, Iowa) Iowa Lakes Community College received a $46,140 grant from the Future Ready Iowa Employer Innovation Fund to provide up to 20 individuals with the skills needed to complete the internationally recognized Global Wind Organization (GWO) Basic Safety Training Certification for wind technicians.
The non-credit GWO Basic Safety Training Certification will allow participating individuals to immerse themselves in the experience of working at heights while learning the ins and outs of an entry-level position in the wind energy industry.
"This project provides the financial support to certify individuals who are interested in working in the wind energy industry," said Jolene Rogers, Executive Director of Community & Business Relations. "Iowa Lakes workforce training efforts are focused on increasing the availability of safe, skilled candidates to fill high demand jobs locally."
Being a wind technician is the second-highest in-demand job opportunity in Iowa, and GWO certification is required for wind technicians to work on-site. Iowa Lakes has the only GWO certification center in the Midwest and is well-known for educating highly skilled and valued wind technicians.
"Iowa Lakes has several career-focused, short-term programs available for individuals wanting to change careers or explore opportunities to find a pathway they are passionate about," said Rogers.
This Working at Heights Certification project will prepare individuals to earn GWO certification and consider earning other credentials, positively impacting the pipeline of qualified candidates into high-demand wind technician positions.
The GWO certification program is an immersion experience that could land participants with a paid employment opportunity with a local company after completion.
Iowa Lakes has received two Future Ready Iowa Employer Innovation Fund grants previously in 2020 and 2021. A $100,000 grant from the Future Ready Iowa's Coronavirus Relief Employer Innovation Fund funded the 100 People in 100 Days project that ended up helping more than 200 individuals. In addition, a $50,000 grant allowed more than 20 participants to prepare for the Certified Bookkeeper exam or Society for Human Resource Management (SHRM) Certification.
For more information about Future Ready Iowa Employer Innovation Grants, visit futurereadyiowa.gov/innovation. For more information about Iowa Lakes, visit iowalakes.edu.
###