Iowa Lakes Receives $1 Million Grant For Career Academy Incentive Fund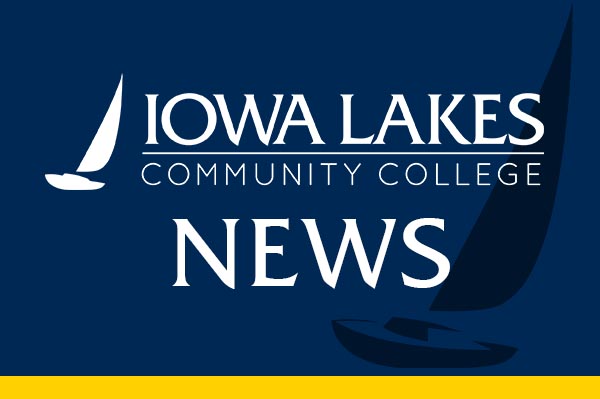 (Estherville, Iowa) Iowa Lakes Community College awarded a $1 million grant to develop a Regional Career Academy through the new Career Academy Incentive Fund. Only four institutions in Iowa received the grant; Iowa Lakes Community College, Des Moines Area Community College (DMACC), Iowa Western Community College and North Iowa Area Community College (NIACC).
The grant will increase access to career academy programs in high-demand fields through a new regional center. Students in partnering school districts will benefit from industry partnerships, earn high school and college credit, and gain technical and traditional academic skills offered through career and technical education (CTE) programs.
"We are extremely honored and fortunate to have been selected as a recipient of the Career Academy Incentive Fund Grant. Iowa Lakes will use the funding to establish a new regional center on the Spirit Lake Campus to expand career academy programming to students starting with four surrounding districts, including Okoboji, Harris-Lake Park, Spirit Lake, and Estherville Lincoln Central. We are so appreciative of the partnerships that we have built with the participating school districts and look forward to the opportunity to serve their students," said Valerie Newhouse, Iowa Lakes Community College President.
Students attending the Spirit Lake Campus Regional Career Academy can take classes while earning high school and college credit in the following Iowa Lakes programs: Agribusiness Technology, Electrical Technology, Heating, Ventilation, and Air Conditioning Technology, Certified Nursing Assistant (CNA) and Patient Care.
"Expanding career academies develops our workforce talent pipeline and prepares high school students for high-skill, high-demand careers that are available right here in Iowa," said Iowa Governor Reynolds. "I commend DMACC, Iowa Lakes, Iowa Western, and NIACC for their leadership in growing career academies which inspire and develop some of Iowa's most valuable workers beginning at a young age and, at the same time, expands opportunities to meet the needs of students, families, schools, and employers in their local communities.
The Career Academy Incentive Fund was established by a 2019 law that extends a statewide penny sales tax for school infrastructure, called Secure an Advanced Vision for Education (SAVE), through January 2051.
At least $1 million will be awarded annually to support career academy partnerships among community colleges, school districts, business and industry, Regional Planning Partnerships, Area Education Agencies, and others to increase student access to college programs, state-of-the-art equipment, and career paths in Iowa's in-demand fields.
"These innovative partnerships are vital to introducing more students to high-demand fields in programs where they can earn industry-recognized credentials and college credit," said Iowa Department of Education Director Ann Lebo. "The new regional centers will help more students leave high school prepared for the workforce or ready for further post-secondary education, and I am thankful to these community college and school district leaders for their dedication to expanding career academy opportunities."
Newhouse explained further, "This grant is a significant investment in the education of our students within Dickinson County and the surrounding areas. We know that there is a high demand for skilled workers in Northwest Iowa, and Iowa Lakes is committed to providing the educational and training opportunities needed to meet this demand."
Expanding student access to high-quality career and technical education is part of the Future Ready Iowa initiative, focused on growing a skilled workforce in all regions of the state by connecting more Iowans to the education and training needed for high-demand careers.
More information is available on the Iowa Department of Education's opens in a new windowwebsite.