Iowa Lakes Hosts Annual Job Fair: March 1 and 2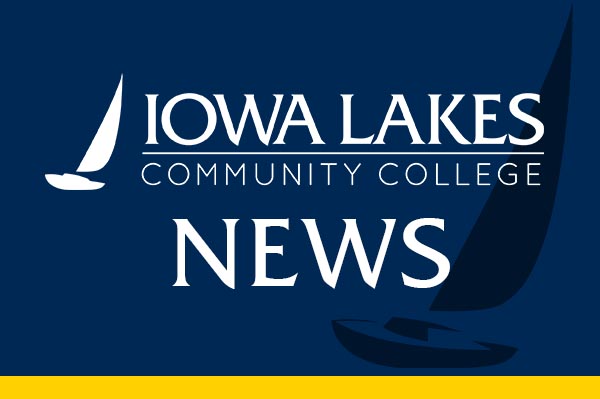 (Estherville, Iowa) Iowa Lakes will host its annual, two-day job fair on two Iowa Lakes Community College campuses. This year's job fair will feature more than 60 businesses and organizations with various job opportunities available. Candidates of all ages, experience levels, and industries are encouraged to attend.
Day one of the Job Fair will take place on Tuesday, March 1, from 11:00 am to 12:30 pm in the Cafeteria on the Emmetsburg Campus, with day two scheduled for Wednesday, March 2 from 11:00 am to 12:30 pm in the Max on the Estherville Campus, and from 12:30 pm to 2:00 pm in the SERT building of the Estherville Campus.
"The job fair is a great opportunity for job seekers to explore employment opportunities and make connections with employers while seeking a new job or even a new career," said Tim Ireland, Iowa Lakes Career/Veteran/Military Services Coordinator. "Our job fair provides access to employers, from a wide variety of organizations and industries, who are seeking committed, hardworking, and enthusiastic employees to fill currently available or future part-time and full-time positions."
Employers and other institutions currently planning to participate include Agco, Aluma Aluminum Trailers, Anemometry, Aventure Staffing, Blattner Company, Bobalee Hydraulics, Bolton & Menk, Inc., BrandFX, LLC, Buena Vista University, Child Care Resource & Referral of Northwest Iowa, COILCRAFT, Conservation Corps Minnesota & Iowa, Corteva Agriscience, Country Landscapes, Inc., DEMCO, Doherty, Easy Automation Inc., Empirical Foods, Enel North America, Inc., Energy Panel Structures, Inc., GE, Goodwill, IowaWORKS, Hormel Foods Corporation, Interstates, Invenergy, Iowa DOT, John Deere Waterloo Works, K&W Electric, Inc, Kimberly Crest Veterinary Hospital & Specialty Services, Little Sprouts Daycare, Mau Marine/Okoboji Store Bar & Kitchen, McCreary's Creative Catering, Midwester Mechanical, Inc. Mission Veterinary Partners, Mistras Group, Inc. Moveero, New Cooperative Inc., NextEra Energy, North Central States Regional Council of Carpenters, Parks Marina, Polaris, Proteus, Inc., Reding's Gravel & Excavating, Rembrandt, SAFCO, Seasons Center, ServiTech, Inc., SkyClimber Renewables, Sportsmen's Business Alliance, LLC, The HANOR Company of WI, LLC, Trek Financial, TriStates Grain Conditioning, Trusted Energy US Army, Vestas, Wells Ag Supply, Wind Test North America, Woodruff Construction, and Pharmacists Mutual Insurance Group.
The Iowa Lakes Career Resource Center has information and resources to help Iowa Lakes students prepare for the job fair. Also, Optimal Resume Suite, a free service for Iowa Lakes students, offers resume preparation assistance at iowalakes.optimalresume.com.
Job seekers and employers interested in obtaining more information should contact Tim Ireland at 712.852.5284 or tireland@iowalakes.educreate new email.