Iowa Lakes Holds Summer 2021 Commencement Ceremony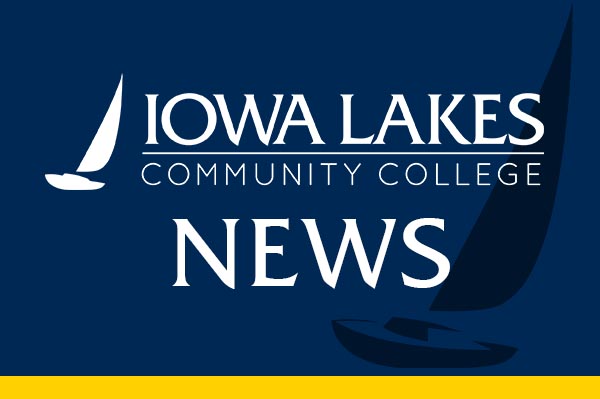 Students wearing graduation caps and gowns flocked to the Emmetsburg campus as Iowa Lakes Community College celebrated its newest graduates during a commencement ceremony on Friday, July 30. More than seventy students applied for summer graduation to receive the certificate, diploma, and/or degree earned.
The commencement started at 1 p.m. with preliminary music and processional by Rosemary Matthews, Professor Emeritus. Julie Williams, Executive Dean of Students, and Mary Faber, Campus Director of the Spencer and Spirit Lake Campuses, escorted the processional.
"Commencement is a time to celebrate the hard work and dedication of our students. Certainly, this group of students has been at Iowa Lakes during a time of great change. We celebrated not only the completion of requirements but also their resilience and adaptability. Many of our graduates have indicated they already have jobs lined up," shared Barb Grandstaff, Director of Registration and Records.
Iowa Lakes' President, Valerie Newhouse, welcomed the attendees at the commencement exercises. Next, Janice K. Lund, President of the Board of Trustees, acknowledged the Iowa Lakes Board of Trustee members.
Dan Lutat, Executive Director of Foundation and Government Affairs, presented the Jack P. Kibbie Outstanding Service Award to three students who exemplified the spirit of service to the college community. The three students honored this year were Emma Kral of Graettinger, Christian Nichols of Graettinger, and Dalton Johnson of Cylinder.
The Presidential Scholar Advisor, Chad Tischer, introduced the Summer 2021 Presidential Scholars: Heather M. Schmidt and Shane Ringling.
Abigail Kintzle, a Massage Therapy diploma candidate and business owner from Swea City, presented the student address. Elizabeth Larsen, Massage Therapy Instructor, introduced Kintzle.
"Sometimes we get all worked up in the hectic life college brings, and we think we have to complete things in a certain timeframe, but we don't. Everyone embarks on a journey in a different way that works for them, and there's something really special about that. Everyone graduating today has shown that you want to push forward into your journey and towards a new and abundant chapter of your life," expressed Kintzle in the keynote speech.
Robert Leifeld, Vice President of Administration, presented the candidates while Pat Kibbie, Vice President of the Board of Trustees, conferred the Degrees and Diplomas. Dr. Martha Olson, a Nursing Professor, led the roll call of candidates. Leifeld then concluded the ceremony with closing remarks followed by the recessional.
If interested in learning more about Iowa lakes Community College, visit iowalakes.edu.