RSVP is part of the national AmeriCorps Seniors network of programs which recruits adults 55 and better to use their skills, talents and life experience to help meet community needs through volunteer service. The Northwest Iowa RSVP program has been sponsored by Iowa Lakes Community College since it was established in 1977. Northwest Iowa RSVP serves Clay, Dickinson, Emmet, Kossuth and Palo Alto counties.
RSVP volunteers choose what and when they wish to serve. Opportunities for service are as diverse as the volunteers themselves and are available in a wide-range of projects, activities and events.
Whether impacting literacy and academic skills for elementary students, providing transportation to medical appointments or addressing food insecurity in northwest Iowa, RSVP volunteers are making a difference in people's lives , while at the same time, they are strengthening their communities.
When you share your time and talents, your community benefits...
You are unique. No one in the world has had the exact same experiences you've had. No one else can share what those experiences have taught you. There is a need in your community that only you can fill with your special talents and skills. You can make a difference.
…and when you volunteer, you will also benefit personally.
RSVP volunteers are not paid, but they benefit in other ways. They meet new friends, learn new skills and stay active - both physically and mentally. Research shows that people who volunteer not only feel healthier, they are healthier, with lower blood pressure, less anxiety and increased energy. Volunteers eat and sleep better, and live longer, more fulfilling lives.
RSVP volunteers are included in formal and informal recognition activities held locally, providing additional opportunities for socializing and meeting new people. RSVP also provides excess liability, accident and automobile insurance for volunteers while on assignment.
The only requirement to join RSVP is that you be 55 years of age or better and have a desire to make a difference in your community. You do not have to be retired nor meet any income guidelines. It does not matter where you live or how much time you have to volunteer. RSVP opportunities can be customized to fit your service availability and interest.
If you are not yet 55 but would like to volunteer, contact the RSVP office in your county and the RSVP Coordinator may register you as an "honorary" member.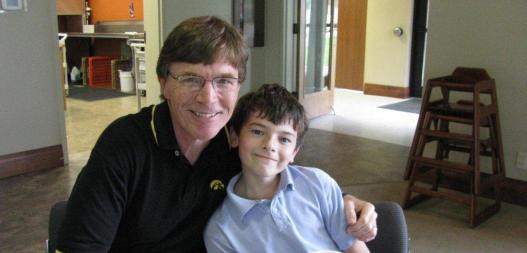 Northwest Iowa RSVP focuses on "Healthy Futures" volunteer efforts. Some priority healthy futures positions include:
K-12 Education Success
Volunteers are needed in local schools to work directly with students from pre-K through grade 12. Volunteer opportunities with schools in each of the five counties served by RSVP include:
Pen Pals: an intergenerational, literacy program matching volunteers one-on-one with students for an exchange of letters over a set period of time, usually 6—8 weeks.
Reading Buddies: volunteers are matched one-on-one or with small groups of students to strengthen reading skills using level appropriate content with students.
Virtual Reading Buddies: volunteers conduct individual Zoom reading sessions with students.
English As A Second Language: volunteers assist with conversational English, assignment comprehension and completion with ESL students in K-12, college and adult learner settings.
Tutors: volunteers serve as individual tutors in a variety of subjects.
Food Pantry Support
Volunteers may serve as managers or assistants with mobile and permanent food pantries and, as delivery drivers for home-delivered meals and Meals on Wheels programs throughout northwest Iowa. Food preparation and packaging positions are available in some counties.
Medical Transportation
Volunteers use their own vehicles (RSVP provides free supplemental insurance to drivers) to provide transportation of county residents to medical and other necessary appointments in-town, out-of-town and out-of-state. Drivers receive modest reimbursement for mileage.
Other Community Priorities
Northwest Iowa RSVP also places volunteers with:
Blood Drives

Thrift stores supporting charities and non-profit organizations
Museums and Nature Centers
Senior Health Insurance Information Program (SHIIP) Counselors
Proprietary health organizations including hospitals, assisted living and long-term care facilities
Sewing and/or quilting for veterans, homeless or others in need
Public libraries
Collegiate-level sports and fine arts activities
Chambers of Commerce and other community organizations
Iowa State University Extension and Outreach
Many local, seasonal and/or annual community events and activities
To learn more about the wide range of RSVP volunteer opportunities in your area, please contact your county RSVP coordinator.