Building a Career in Construction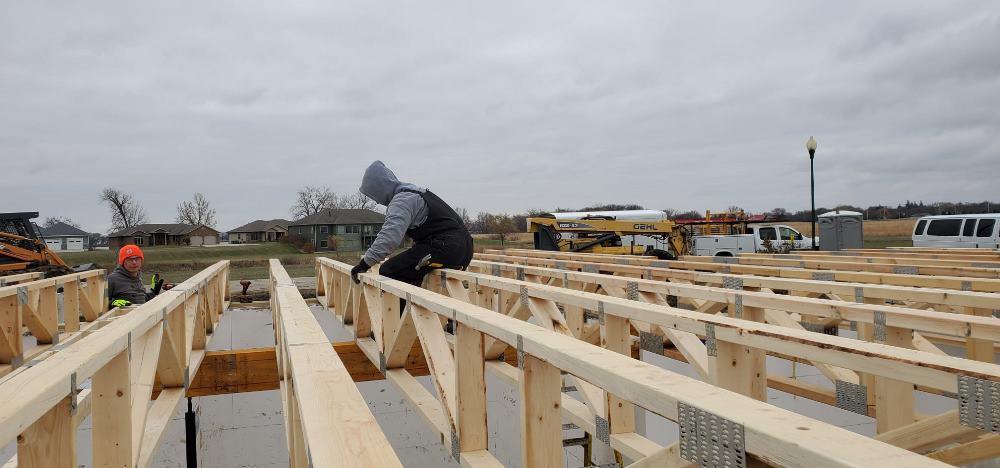 (Emmetsburg, Iowa) Construction workers and construction managers are in high demand, with construction being one of the "Hot 50" Iowa jobs and the 3rd highest growth industry in the United States. Iowa Lakes Community College prepares students to build a career in construction with hands-on experience, education, and industry certifications.
Students gain knowledge and real-life experience through the Iowa Lakes Construction Technology program by completing a new construction project from start-to-finish. Students learn how to build single-family homes and the ins-and-outs of commercial construction.
The 2020-2021 academic year's main project is a house for the Emmetsburg Community Development Corporation (ECDC) at Rockport in Emmetsburg. So far, the students have helped design the home, laid it out on the lot, determined the house's elevation, poured all the concrete for the house, garage, and driveway, framed the floor system, and started framing the home's walls.
Some of the Construction Technology's past projects include designing and building two cabins for the Five Island Lake Cabins project for the City of Emmetsburg and building new construction, single-family home located in Ruthven.
Students are actively involved in each step of the building process, whether they are pouring the foundation, framing the floor and wall systems, shingling the roof, or completing finish carpentry. Students also interact with the customer to better understand how to provide excellent customer service throughout the building process.
Corey Menning, Construction Technology Assistant Professor and Program Coordinator, incorporates a strong emphasis on energy-efficient construction, allowing students to become familiar with the "house-as-a-system" concept and "green" building techniques.
"With today's volatile energy markets, it is so important to focus on making a home as energy-efficient as the budget allows. After all, we can build the most beautiful home imaginable, but if you cannot afford to heat and cool it, we have not done our job," explains Menning.
Menning continued, "We focus on high energy-efficient construction practices throughout the building process on our projects. Once a project is complete, the students use home energy diagnostics tools to perform blower door tests, thermal camera scans, and various other equipment tests to show the students how much building the way we did increases the efficiency of the home."
Iowa Lakes' Construction Technology students earn many industry certifications, including Lead Abatement Training, Advanced Tyvek Installation & Flashing System Training, 10-hour OSHA Safety, Forklift license, Scaffolding setup and inspection, Scissor Lift operator, Bobcat-Skid Loader operator, Pallet Jack, Confined Spaces, American Concrete Institute Flatwork Associate, and First Aid and CPR.
With an 11 percent estimated growth for construction workers and laborers and 10 percent expected growth for construction managers over the next eight years, along with a predicted increase to 17.5 trillion dollars spent on construction annually by 2030, the construction industry is booming. Simultaneously, the construction industry faces shortages of well-trained construction workers and managers capable of using new technology, creating job openings for skilled workers.
Construction Technology is one of the many Iowa Lakes programs that qualify for the Last Dollar Scholarship through Future Ready Iowa's scholarship program. The Last Dollar Scholarship bridges financial gaps for college expenses in high demand professions and is available to Iowa residents who have recently graduated or adults seeking to improve their skills.
Iowa Lakes helps meet the increasing job demand by ensuring students receive the foundational skillset and real work experience needed in the construction industry.
If you are interested in building a construction career, Iowa Lakes Community College is the best place to start!
SOURCES FOR STATISTICS:
Iowa Employment Solutions, DMACC, Iowa's hot 50 Jobs, website last visited on November 4, 2020
Bureau of Labor Statistics, U.S. Department of Labor, Industries at a Glance-Construction, website last visited on November 4, 2020
For More Information:
Corey Menning, Assistant Professor and Program Coordinator of Construction Technology at cmenning@iowalakes.educreate new email or 712-852-5341