Adult Education & Literacy Featured During July Board Meeting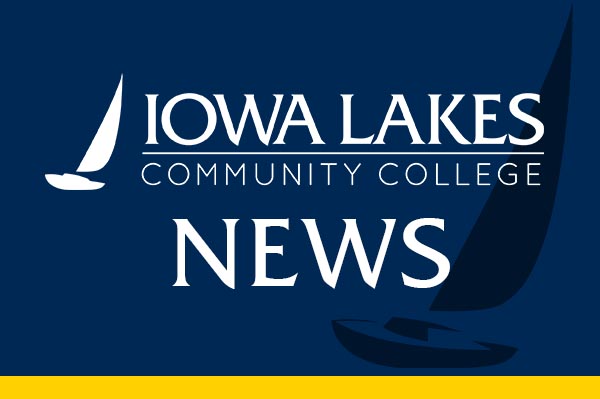 (Algona, Iowa) The Iowa Lakes Community College Board of Trustees met last Tuesday afternoon for their regularly scheduled board meeting on the Algona Campus. Jolene Rogers, Executive Director of Community and Business Relations, began Tuesday's meeting by introducing Theresa Waechter, Campus Supervisor, for a campus update and Algona campus staff introductions.
"I've been fortunate to work from the Algona Campus regularly this summer. The industrial tech training lab provides a terrific space for employee training in the manufacturing and electrical industries," said Rogers. "Theresa and her team are preparing for the start of the upcoming school year and look forward to welcoming students back to the Algona Campus."
Fall 2023 classes at Iowa Lakes begin Tuesday, August 22, with students returning to campus Friday, August 18, and Sunday, August 20.
Rogers introduced Melissa Haukap, Director of Career and Community Programs at Iowa Lakes Community College. Haukap began her career at Iowa Lakes in 2022, bringing more than 13 years of business and banking experience to her new role. Haukap holds her bachelor's degree from Minnesota State University and an associate degree from Iowa Lakes Community College.
"The Adult Education & Literacy or AEL program at Iowa Lakes provides college and career readiness to adults 17 years of age or older and offers students the opportunity to complete a High School Equivalency Diploma (HSED) either face-to-face or online, take English as a Second Language (ESL), and Adult Basic Education (ABE) courses," said Haukap.
AEL programs address the needs of adults seeking to earn a high school diploma or equivalency, improve their ability to read, write, and speak English, or improve academic skills to prepare for the workforce or post-secondary education and training.
Students exploring AEL programming at Iowa Lakes can work with HSED, ABE, or ESL instructors on any of Iowa Lakes' five campuses.
"Iowa Lakes has a great group of instructors who strive to make meaningful connections with their students. The relationships our instructors build allow them to form better connections with students while helping them to overcome any obstacles they face as they re-enter the classroom. With our outstanding instructor group and strong leadership, I am confident that we will see growth in numbers over the next year," said Haukap.
Iowa Lakes measures the number of students enrolled in a program and the skills gained upon completion.
"Students complete a pre-test during their orientation to the program, and after 12.5 hours of instruction, they become an official program participant. Once participants have completed 40 hours of instruction, they complete a post-test to determine measurable skills gained," said Haukap.
Additionally, Iowa Lakes has hired Career and Transition Coordinators who provide services at all five campuses. An intentional strategy to connect individuals to a Career Pathway is essential and supports individual professional development. Grant Buscherfeld serves the Algona and Emmetsburg Campus. Will Musgrove covers the Spencer Campus and shares responsibilities at the Spirit Lake Campus with Liz Hoppe, who also serves the Estherville Campus.
Career and Transition Coordinators assist unemployed people in exploring ways to improve their skills for possible advancement or discovering their dream job if undecided about a career path. Services are free and provided through the Pathway for Academic and Career Education grant allocation from the Iowa Legislators annually.
"This new strategy allows our students to have multiple contacts and check-in points to keep them motivated while helping them achieve career and educational goals," said Haukap.
In addition to personalized support, the AEL program at Iowa Lakes allows students to complete coursework at times that work best for their schedules. opens in a new windowTo learn more about the AEL program offered at Iowa Lakes, visit https://iowalakes.edu/continuing-education/adult-education-literacy/.
The next meeting of the Iowa Lakes Community College Board of Trustees will be held on Tuesday, August 15, 2023, at the Administration Building, 19 South 7th Street, Estherville, Iowa, at 4:30 pm.